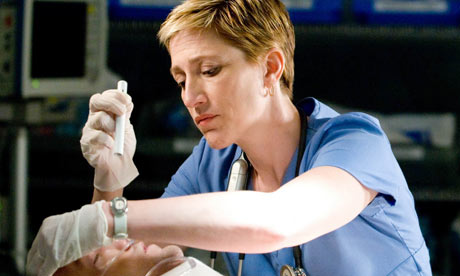 Image from The Guardian. BBC/CBS/BBC
Last Friday I awoke from dozing off on the sofa to find a TV programme on BBC 2 set in a hospital and revolving around, shock horror, nurses. The progamme was called 'Nurse Jackie'.
Nurses are often the unsung heros of medical TV drama, the bit part players and trusty asides to the cavalier and grouchy doctors, but 'Nurse Jackie' goes some way to redressing this imbalance. Along with its tone being difficult to pin down - its not the pulsing drama of ER or the sickly schmaltz of Grey's Anatomy, nor possessing of the inane and bizarre life lessons of 'Scrubs' - 'Nurse Jackie' is particularly distinctive because of its wonderful central performance from Edie Falco as the aformentioned nurse Jackie.
Jackie is a flawed and deeply human character and Falco brings an aesthetic and emotional realism to the role of the nurse which can too often be sidelined to a one-dimensional sex symbol. There's no danger of this here as nurse Jackie pioneers her own brand of straight talking bedside manner that extends to challenging the system and the doctors around her who try to enforce a hierarchy.
'Nurse Jackie' is just as distinctive for what appears to be a rare opportunity to portray realistic looking female characters who are complex and compelling, who can carry a TV drama in their own right and are also allowed to deliver some of the best comic lines. I am so sorry that I've discovered this programme as it nears the end of the series (I've caught up on a couple of episodes on iplayer), but hopefully the BBC will repeat it and screen the second series at some point.