Its Friday and the end of a long and perplexing week in which rather confusingly I watched Carol Vorderman on Question Time (a mind exploding number of thoughts came to mind during this hour long debate that is fast becoming torture for the soul - why did she read from a piece of paper the whole time? Were those glasses real? How can someone who is so good at solving algebra equations and Pythagoras Theorem be so stupid in every other aspect?)But all this is for another blog.
Tonight I'm going to keep it simple, perhaps even, in homage, I might write the rest of this in soundbites. SHOUTY SOUNDBITES. Because ... 'IT'S MASTERCHEF'. How awesome is this show? Words fly from the mouths of Antipodean John Torode and boiled egg-head Greg Wallace, the like of which haven't been seen on our television screens for as long as I can remember. The way Wallace sinks a silver spoon into rhubarb crumble, reshapes his lips into a wrinkled ass-hole and says the words 'that is majestic!' is surely pure televisual gold. And thank goodness we have John Torode keeping it real by reeling off the list of ingredients the poor hapless contestant has thrown into his or her hastily made - 50 mins - one dish - invention round. Let's imagine for a moment someone served up Angel Delight under their robotic gaze. It would surely go something like this -
Torode (rams a spoonful into his mouth, letting his teeth scrape the spoon as he pulls it out): 'Well, we've got foam, we've got sugar and at the end, just a hint of .... air ... I ... quite like it.'
Wallace: 'Wow, that's sugary - the flavour rams you around the back of your head ... but ... does it show enough skill?'
All the while an incredibly intense soundtrack of music discarded from Stanley Kubrick's' The Shining plays in the background.
As Wallace would say 'Cooking doesn't get tougher than this!'
And just because its Friday Heeeeeeeeeeeeeereeeeeeeeeeesssssssssss's ...
John Torode and Greg Wallace. How playful ...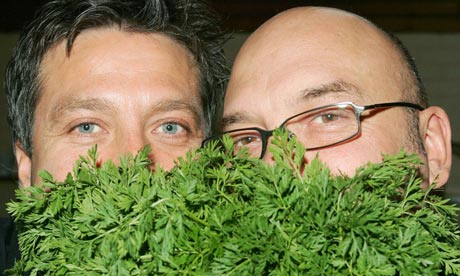 Image from The Guardian. Shine/BBC.