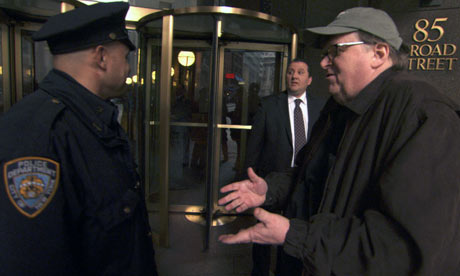 Image from The Guardian: Everett Collection/Rex Features.
The general consensus around these parts at least, is that Michael Moore is a bit like
Marmite
, the
Jedward
of the documentary world - you either love him or you hate him. If I must be drawn into such hard and fast conclusions, then I would have to say I love him. Sure he's a polemicist but were you under any illusions that you were going to get a balanced assessment of capitalism? Indeed what the hell is balanced about a concept that systematically takes from the many to line the pockets of the few?
Capitalism: A Love Story is what Moore thinks capitalism has done to America. But he also pieces together some shocking, albeit anecdotal pieces of evidence about its insidious and cruel practices. In this documentary Moore films ordinary Americans being stripped of their homes for presumably not keeping up with their mortgage payments, factory
workers
turning up for work and being told that they had been sacked with out any redundancy packages and employers who had taken out life insurance policies on their poorly paid workers, so that in the event of their death their loved ones would be left with zilch. With Moore's camera
lens
zooming in on the anguish on these victims' faces the viewer is left with the uncomfortable paradox of manipulative film-making, yet whose very intrusiveness opens a window into a world banks and governments would rather we didn't set foot. So who the hell is really the bad guy?
I've read an awful lot over the weekend from the broadsheets criticising Moore for the wearing thin propaganda in which he
supposedly
peddles. In the Guardian no less one blog suggested Moore's challenge to capitalism was merely pie in the sky liberalism. You can't fight the hulking machine of capitalism. So much for the 'liberal voice'. And while this documentary sadly comes to theatres in an untimely fashion, the euphoria of
Obama's
election victory is all but past its infancy, and we are (including those of us in Britain) seemingly apathetic or perhaps more aptly put powerless to stop the stranglehold of the world's banks and our government's willingness to bail them out, there is still a level of relevance to Moore's crusade.
After all
whatever did happen to democracy as we were supposed to know it? If we take Britain for a second, what part of
MP's
expenses claims at the tax payer's expense had anything to do with the democratically elected serving their people? Indeed what's the point of democracy if the government works more effectively for the banks than it does for its citizens?
Yet under these circumstances it is difficult to understand what Moore means when he concludes in somewhat lukewarm terms that 'Democracy' is the challenge to capitalism, as it almost looks like we've entered a situation were one feeds directly into the other. Democracy from ancient Greek civilisation onwards appears to be at least in the hands of our elected representatives a
malleable
concept that can sit on a
trajectory
spanning the right and the left of politics. Indeed our government suggested that the banking bail out had been for the greater good, that it would benefit us all, so go figure.
While in general terms one might suggest that what Moore was trying to say was whatever happened to democracy?, it would perhaps be more pertinent to point out that his thesis sits more comfortably with his patriotism. For his documentaries are so saturated in his paradoxical love for his country and his
despair
at what the powers-that-be have done to it. This vein runs right through the heart of his work, from the grass roots level at which he deals with his state of Michigan and more particularly his home town of Flint, to the closure of General Motors, the company his father had worked for. Perhaps any form of patriotism simply doesn't sit well with the reluctant British. And who could blame us, there is very little to be proud of.
However it is far too simplistic to paint Moore as the bad guy and similarly it plays into the hands of the capitalists who'd rather we didn't question their immorality. Capitalism may have once been a concept founded on the supposed principles of freedom of choice but this very tenet is undermined when your choices are limited by poverty and circumstance. If in turn your democratically elected representatives work more effectively for capitalistic gain than societal growth - equality, the right to a decently paid job, the right to shelter and protection from the state - then we can safely say there is something far wrong with these governments. Moore is one of the few who is actually pointing this out. You don't have to like him but equally don't criticise him for promoting social justice.