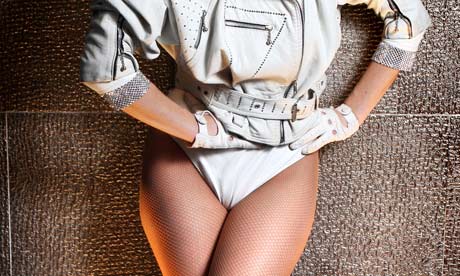 Sometimes you have to take your inspiration where you find it. This can be hard when you're struggling within a mainstream culture to pick out the bits that fit in with a spirit that wants to sing to its own tune. I'm trying to find redeemable qualities in the music artists of our generation but it can be hard; Lady Gaga is an odd ball – but how much of her image is manufactured?

Herein lies the problem I have with our lady singers, it's in the engineering. When I read that Lady Gaga aspires to uniqueness over pretty, I'm pleased, but then when I see her spread her legs in front of a male model in her latest video 'Love Game' I fear we've taken a step backwards in liberating women and a move forwards in the on-going hyper-sexualisation of our gender.

Has the crotch become the last area of the female body to finally be colonised? Magazines circle 'camel toes' in body halls of shame, and so bored are we apparently with faces that the paparazzi have resorted to taking under-skirt photographs. And now the fashion actively encourages it: body suits are to the crotch what belly tops were to the tummy.

And while I don't subscribe to the idea that our lady-parts are something to be ashamed of, I do think that in making them so apparent popular culture has inadvertently turned on its head the old adage 'the horror of nothing to see' into the horror of seeing far too much. I worry that all this reduces these women to the sum of their individual 'parts' rather than the collective strength of their talent. And I ask is it time to put the clothes back on and let the music speak for itself?

Thankfully there are quiet challenges to this status-quo. La Roux is a good example. I cannot express enough what a sheer joy it was see Elly Jackson in a masculine suit in her latest music video 'I'm Not Your Toy'. There is something intriguing to the pale ethereal face of this woman in understated make-up and giant quiff. Quite aside from Jackson's gender, it is her image that is sexually ambiguous and androgynous and it forces you to think. And the thought I had was this - why I am I so amazed to watch a video where the female artist keeps her clothes on?

This kind of shock should be reserved for the pop crotch and all it represents with its blatant agenda. We should be saying 'deary me, I do believe that woman's forgotten to put on her trousers' rather than encouraging her to take them off.